Breckenridge Guided Snowmobile Tours – Beginners
Snowmobilers of all types will enjoy this professionally guided tour.
It departs from our Heeney Outpost near Silverthorne, Colorado.
While it's best suited for those lacking experience with snowmobiling or families with children, anyone can enjoy the breathtaking views and good times tooling around on the trails.
We also offer a 1,000 foot tubing hill as an option where everyone can let out their inner child!
MORE INFO
Depending on weather, some of the nearby sights include:
Rocky Mountain National Park
The Continental Divide
Several of the tallest peaks in the Rocky Mountains
In you're into taking advantage of all the photo opportunities, bring your camera and tell your guide.
They will be happy to show you all the best places to take jealousy-inducing photos! Along the way, we'll stop off at our "cocoa" cabin to warm up with complimentary hot beverages.
Eagle's Nest Wilderness will be all around you as you sip your cocoa.
SCENIC TOUR DETAILS
This Breckenridge, Colorado guided snowmobile tour includes a safety talk and demonstration on operation of the snowmobile hosted by a professional guide.
You will also have an opportunity to play and test out your riding skills on our 3/4 mile long oval track.
We recommend that you bring and use your snow gear. We do have helmets (DOT approved) available free of charge. Helmets must have a DOT approved sticker if you want to wear your own.
You MUST bring your own gloves and we suggest bringing your own goggles too, but we do have some available to rent.
Do you like snow tubing? Find out more about combining our guided tour with sliding down our 1000+ foot long tubing hill!  It's our most popular option.
**You must call prior to your tour day to schedule transportation. (Transportation currently not available due to covid-19.)**
**MUST HAVE A VALID LEARNER'S PERMIT OR DRIVER'S LICENSE TO DRIVE A SNOWMOBILE**
SCENIC & VALLEY TOUR LOCATIONS AND DESCRIPTIONS
TRAIL DESCRIPTION
The Valley and Action Snowmobile Tours at Birdseye could be the best choice for you if you want a slow paced tour that stays down in the valley.
It starts with instruction on how to operate the snowmobile and takes you directly to a practice track where you can learn how your snowmobile handles.
After the practice track, you head down the trail that goes through the forest and parallels the headwaters of the Arkansas river. On a clear day, you can see the three tallest mountains in the Rockies!
Make sure you ask your guide to stop at the Cocoa Hut to enjoy some free hot chocolate and let the kids ride the kiddie snowmobiles.
You can also request to your guide that you would like to stay on the flattest trails we have so that your guide will know to guide you on trails with very little up and down.
Please know that you control the speed of your snowmobile, if you have any concerns you may stop your snowmobile and your guide will happily come to help you.
TRAIL DESCRIPTION
The Scenic and Action Snowmobile Tours at Heeney is a slow paced tour that goes up the mountain, rewarding you with expansive views that you only get with an elevated overlook.
On a clear day, you can see over 40 miles and look over the top of the Continental Divide at Rocky Mountain National Park and north to Rabbit Ears Pass. If it's really clear, you can see mountains over 70 miles away.
First you will receive instruction on how to operate the snowmobile at the beginning of the tour. Next you will head out onto the the trail that gently takes you up the mountain.
During your tour your guide will stop you at great places to take pictures and at the Cocoa Cabin so you can warm up sipping hot chocolate while overlooking the Eagles Nest Wilderness.
Also let your guide know if you want to open up the throttle on the 3/4 mile long track. You can also let your kids ride the kiddie snowmobiles at this stop.
9:00 AM  •  12:00 PM  •  3:00 PM
(Must Arrive 30 Minutes Prior)
Approximately 2 Or 3 Hours
Temporarily Unavailable Due to COVID-19
•  All guests must arrive wearing clothing that is appropriate for this cold weather, outdoor activity!
•  DOT-approved helmets WILL be provided (required).
•  Snowsuits, goggles and boots are availible for rent.
•  We will gloves for sale on a limited basis at each outpost.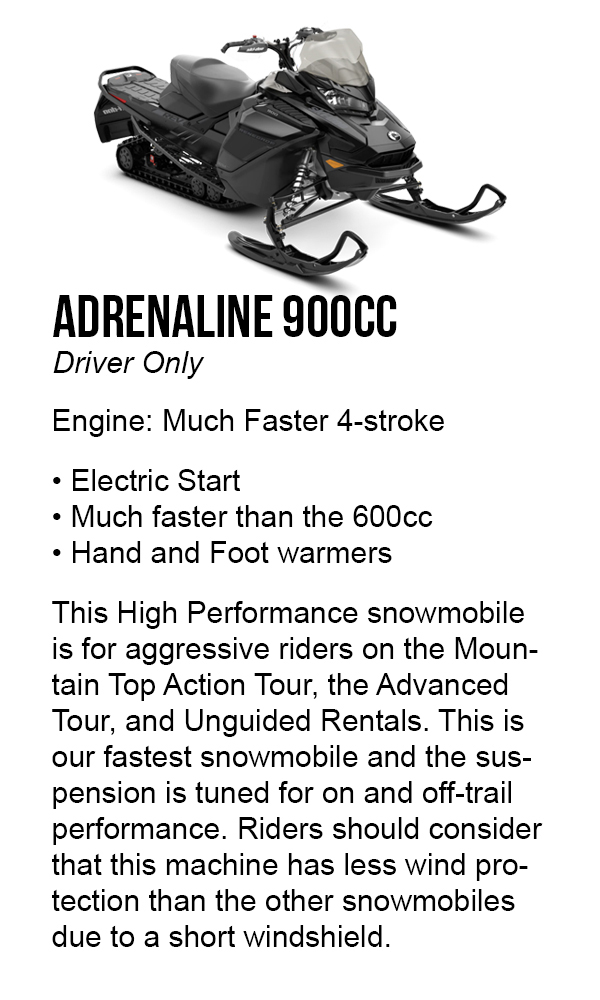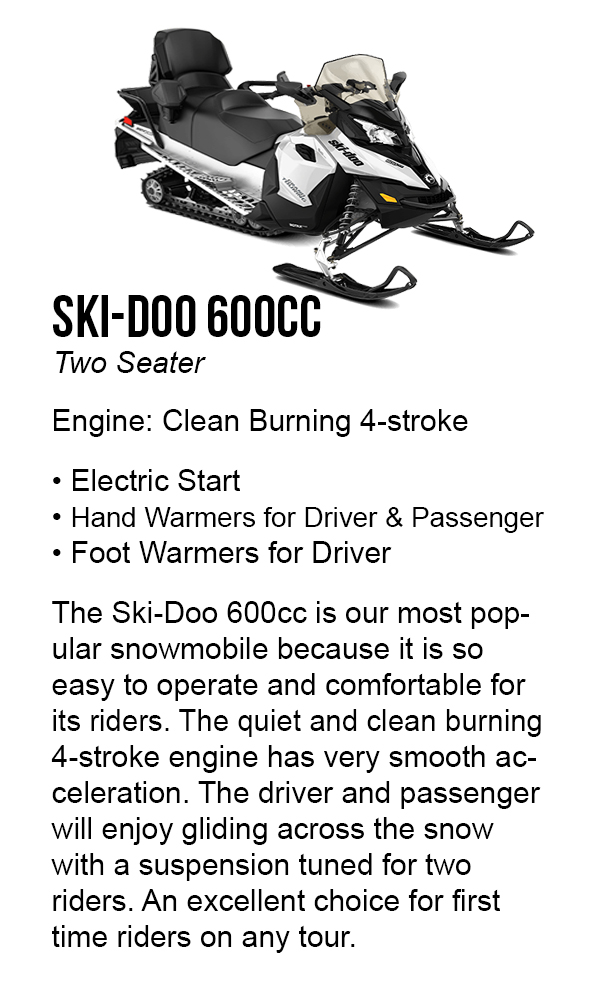 A Quick Walk-through of a Keystone Snowmobile Tour Experience
ARRIVALS / CHECK-IN / GEARING UP
We ask that you arrive at least 30 minutes before your scheduled tour and when you get to our outpost, we'll have you fill out the appropriate paperwork.
Then, we'll walk you through choosing and fitting appropriate riding gear.
High Country Tours rents snow suits, goggles and boots. We do provide FREE DOT-rated helmets to our riders. You can use your own gear if it meets our guidelines. (Please note: our children's snowsuits and boots are limited!)
Our Heeney Outpost and Birdseye Outpost also provide indoor bathrooms.
MEET YOUR GUIDE
Once you're all geared up, you'll be assigned a guide. Your highly experienced guide will demonstrate how to operate the snowmobiles, answer any questions you may have on how to operate the machines, and educate you on proper trail etiquette.
START THE TOUR
Once everyone is ready to start down the trail, you will all leave the parking lot together and your guide will check to make sure that everyone is coming along.  
We want everyone to feel comfortable with the pace of the tour and ensure that you are well within your own comfort zone.
If at any time, you have a question or concern, you can stop on the trail and your guide will come back to check on you.
Ultimately, it's your responsibility to operate the vehicle safely and you should never go on terrain, over obstacles, or travel faster than you feel comfortable with.
 Feel free to stop at any time and your guide will address your concerns.
ALONG THE TRAIL
Your guide will direct you to spots that will afford dramatic views and photo opportunities of mountain peaks and the surrounding landscape features and show all the coolest trails.  
Let your guide know what kind of tour you'd like! If you want to spend more time at viewpoints you can do that, but if you'd prefer seeking thrills on your snow machine, your guide will help you find the best places to explore and ride.
FINISHING YOUR TOUR
When you arrive back at our parking lot, you'll check in the gear and the snowmobile you were assigned.  
Be sure to show your appreciation for the service your guide provided by offering the customary gratuity.  
Afterwards, feel free to hang out and share your experience with others or watch as new arrivals begin their own adventure!
WHAT HAPPENS IF I DAMAGE A SNOWMOBILE?
You are responsible for repairs of any collision damages that you may have caused. The good news is that High Country Tours offers our "Snowmobile Repair Fund."
By contributing $25 (per driver) to this fund before your tour, you will be responsible for the first $1500 to repair the damage to the driver's snowmobile that the driver has caused.
The repair of the driver's snowmobile over $1500 will come out of the repair fund.
We recommend you talk to your insurance provider prior to your tour to make sure you have adequate coverage for this activity.
Considering that some of our machines cost over $16,000, this could be a very wise choice.
WHAT TO BRING
Proper winter clothing and gear

Snow gloves (MUST bring)

Goggles (we have goggle rentals for $10)

Digital camera or recording device

Drivers Need Photo ID for check-in

Minors under 18 must have a waiver filled out by a legal guardian
WHAT NOT TO BRING
• Alcohol or drugs of any kind
• Unhappy faces or bad attitudes-come ready to have a good time!
WHO CAN RIDE/DRIVE?
In order to drive a full-sized snowmobile, the driver must have a valid driving learner's permit or license.  Only adults 18 or over with a valid driver's license can carry passengers.  
We have snowmobiles that can carry a driver plus one or two passengers.  Small children need to be able to sit behind the driver and hold on by themselves.
Up to two larger children can ride behind on one of our 3-seaters if they are able to hold on by themselves for the duration of the tour.  It is highly recommended that pregnant women or infants do not participate.
Kids under 70 pounds can ride our kiddie snowmobiles in a specially designated area.  No age limit!  If they can operate it by themselves, they're good to go.
We also have mid-size snowmobiles for those children over 70lbs but not yet old enough to drive a full size machine. These are a stop during the tour for a few minutes and there is no extra cost!
**All or part of this operation is conducted under Special Use Permit issued by the Bureau of Land Management**