Breckenridge, Colorado Guided Snowmobile Tours – Intermediate
No experience required – just an adventurous soul!
The tour starts out on our easier trails so you'll have plenty of time to gain confidence in your skills before you take on the steep climbs and more challenging trails around Prospect Mountain.
Weather permitting, you'll experience stunning views of the Continental Divide, the three tallest mountains in the Rockies, Leadville's Historic Mining District, and several "14'ers" (mountains over 14,000 feet tall).
**You must call prior to your tour day to schedule transportation. (Transportation currently not available due to covid-19.)**
**MUST HAVE A VALID LEARNER'S PERMIT OR DRIVER'S LICENSE TO DRIVE A SNOWMOBILE**
ACTION TOUR LOCATION AND DESCRIPTIONS
TRAIL DESCRIPTION
You have two options for length on this guided tour: approximately two or three hours. 
We take off from BIRDSEYE OUTPOST, about 16 miles South of Copper Mountain Resort.  
It's situated at an altitude of about 10,000 feet, so get ready for some thin air that will take your breath away!  
A professional guide will demonstrate how to properly operate your snowmobile, and then you'll head out to warm-up area to get comfortable with your machine and then head out to ascend Prospect Mountain.  
You'll end up climbing to a height of over 12,600 feet!
9:00 AM  •  12:00 PM  •  3:00 PM
Approximately 2 Or 3 Hours
Temporarily Unavailable Due to COVID-19
To check availability and arrange pick up, you must call us 48-72 hours BEFORE your tour time (NOT available during Christmas Season – Dec 20-Jan 7.)
•  All guests must arrive wearing clothing that is appropriate for this cold weather, outdoor activity!
•  DOT-approved helmets WILL be provided for FREE(required).
•  We will have goggles for rent AND gloves for sale on a limited basis at each outpost.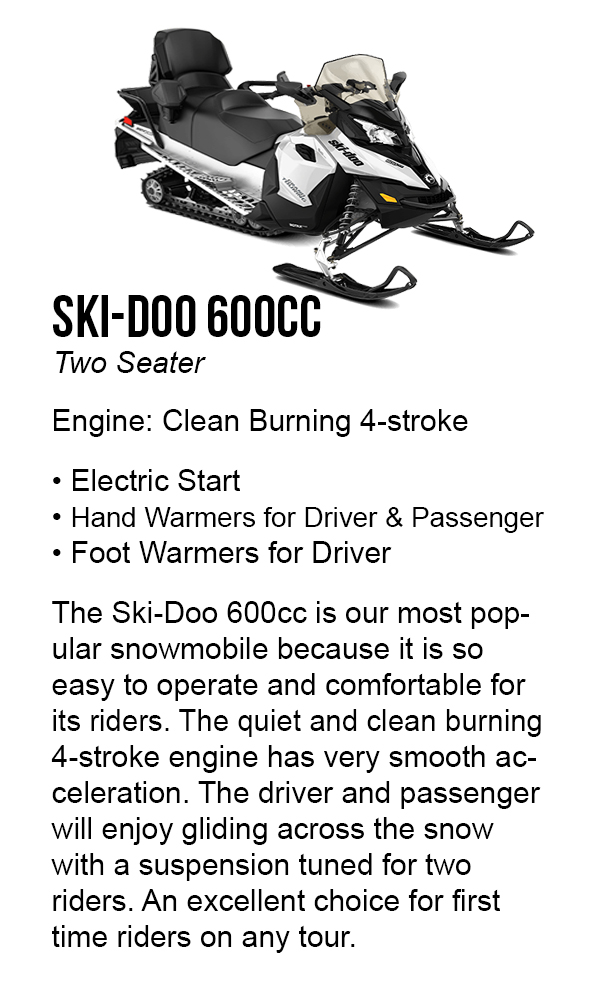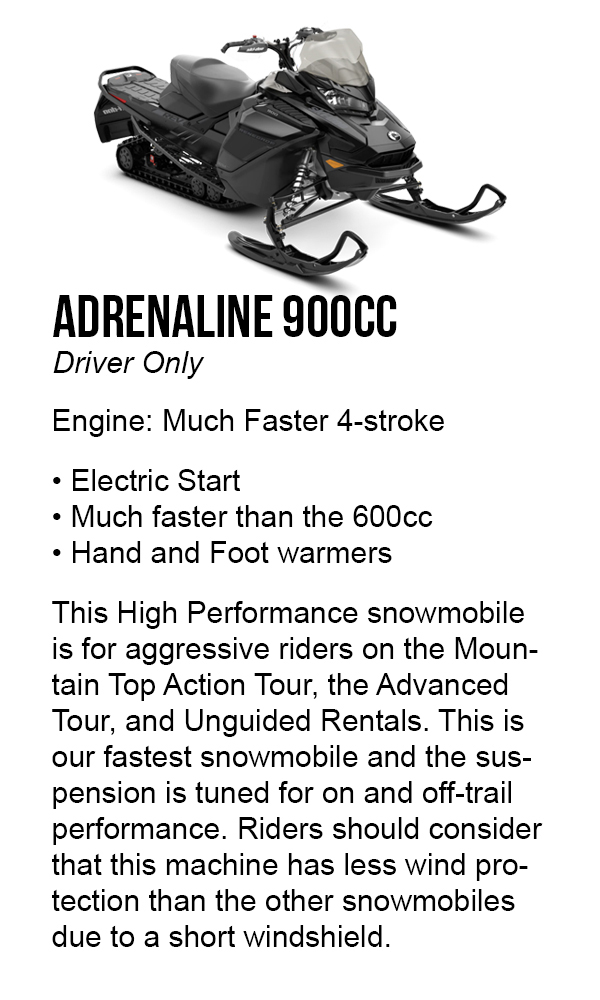 Breckenridge, Colorado Snowmobile Tours
BEGINNER/FAMILY TOURS
If you have kids or riders without experience, be sure to check out the Family/Beginner tours. 
For these tours, we have snowmobiles available that can carry one or two passengers.
There's also a ¾ of a mile long oval open space where beginners can sharpen their riding chops,  plus we allow kids under 70 pounds to run around on our kiddie snowmobiles.
There's no age requirement on these machines, so if they can control, they can zoom around to their absolute delight!
Still need more? There's a 1,050 foot long tubing hill that you can add as an option.
Your guide will tow you up the hill behind their machine and then you and your party can zip back down.
It's an absolute blast!
ADVANCED TOURS
If you're the type of person who feels a need for speed, take a look at our Advanced Tours.
These tours focus on the thrill of plowing fresh powder, blasting up hills, and getting that adrenaline rush.
The adventure of a lifetime is just a phone call away…book your tour now with Breckenridge Snowmobile Tours & Rentals!
LEADVILLE MINING DISTRICT
This district was once the most productive silver mining area in the state.  
Historically, it produced over 240 million troy ounces of silver, three million troy ounces of gold, 987 million tonnes of lead, 712 million tonnes of zinc, and 48 tonnes of copper.
Along the way, you'll also experience breathtaking views and photo opportunities of the Sawatch Mountain Range, the Collegiate Peaks (Named after Ivy League Schools).  
The three tallest mountains in the Rockies will be visible: Mount Elbert, Mount Massive and Mount Harvard as well as many other peaks that tower over 14,000 feet of elevation.
Interested in ghost towns?  The tour will make a stop in Oro City in California Gulch.
 This town, settled during the Pike's Peak gold rush, was the site of one of the richest placer (mining of alluvial deposits) gold strikes in Colorado's history.   
The city reached a peak population of over ten thousand people in July of 1860 and produced an estimated 150,000 troy ounces of gold.  
The population dwindled rapidly once the mining rush was over, leaving only about 200 people only thirty years later.
**All or part of this operation is conducted under Special Use Permit issued by the Bureau of Land Management**