Breckenridge, Colorado Guided Snowmobile Tours – Advanced
Are you the kind of person who likes to go fast?
 Do you prefer to ride the kind of machine that will accelerate quickly and push you to your limits?  
If that describes you, then our Breckenridge Advanced guided snowmobile tour is exactly what you're looking for.  
You'll get to establish your dominance over the terrain while you explore off the trail, blast through fresh powder off and climb steep hills.
MORE INFO
This tour is best for those who have prior experience or want to learn how to ride off the trail, and it's only open to single riders.  
However, even if you've never driven a snow sled before, but you're willing to give it a shot in order to satisfy your need for adventure, then our professional guides will show you all the tricks.
Breckenridge Snowmobile Tours and Rentals: Focus on Safety
Getting back home safe is the most important part of any adventure.  
Telling all your friends about your amazing experiences in the Rocky Mountains just isn't the same when something goes wrong.  
That's why the guides from High Country Tours take the time to demonstrate how to properly operate your snowmobile.
 Then, you'll get a chance to ride the machine on easier trails to get comfortable before taking on any extreme challenges.  
All of our tours are "dry" because it's illegal and unsafe to operate a snowmobile under the influence of drugs or alcohol.  
Our guides will allow you to go at a pace that is comfortable for you, so never go faster than your comfort zone, or take on terrain that you don't feel safe tackling. It's ultimately up to you to handle the snowmobile safely.
**You must call prior to your tour day to schedule transportation. (Transportation currently not available due to covid-19.)**
**MUST HAVE A VALID LEARNER'S PERMIT OR DRIVER'S LICENSE TO DRIVE A SNOWMOBILE**
ADVANCED TOUR LOCATION AND DESCRIPTIONS
TRAIL DESCRIPTION
The Continental Divide is the name for the range of mountains that extends from the Bering Strait North of Alaska to the Strait of Magellan at the southern tip of South America.  
 In the United States, these mountains separate the watersheds and river systems that drain into the Pacific Ocean from those that drain into the Atlantic Ocean (or the Arctic Ocean, in Alaska).
Though there are many other watershed divides in the Americas, the Great Divide is by far the most prominent of these because it tends to follow a line of high peaks along the main ranges of the Rocky Mountains in North America all the way through the Andes in South America.
Weather permitting, you will get an opportunity to view and photograph many of the peaks that make up the Divide along your tour.  
Your guide will help you choose the best spots, so let them know that you're interested in this particular feature of the surrounding landscape.
9:00 AM  •  12:00 PM  •  3:00 PM
Approximately 2 Or 3 Hours
Temporarily Unavailable Due to COVID-19
Call to make your reservations for Jan 15th or after (depending on snow conditions)!
•  All guests must arrive wearing clothing that is appropriate for this cold weather, outdoor activity!
•  DOT-approved helmets WILL be provided for FREE(required).
•  We will have goggles for rent AND gloves for sale on a limited basis at each outpost.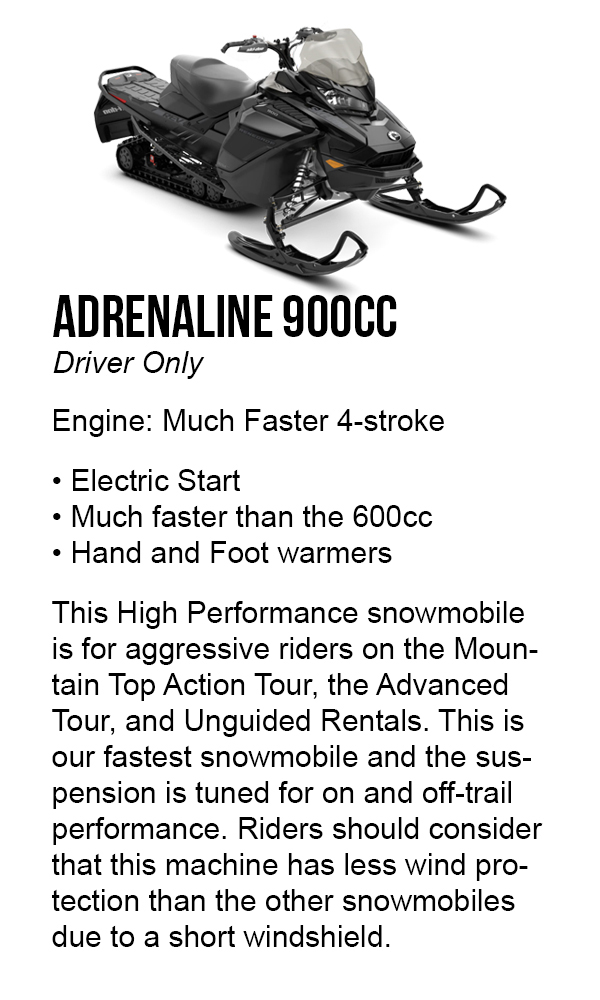 WHAT TO WEAR WHILE YOU'RE SNOWMOBILING NEAR KEYSTONE, COLORADO
Although Winter is a great time to experience breathtaking landscapes, it can also be hazardous for people who are unprepared for the elements.
Having the proper clothing and being aware of winter hazards are both important parts of being prepared.
When dressing for an outdoor adventure in the snow, the most important concept to keep in mind is using the appropriate layers.
Conditions may change quickly and you could find yourself overheated and perspiring.
This can actually be dangerous because damp clothing can end up rapidly transferring heat to the environment if the wind whips up or the sun retreats behind the clouds.
Hypothermia and frostbite can be life-threatening conditions, but you can protect yourself with the right combination of insulation and outer protection.
For Snowmobiling, we recommend the following:
LAYER YOUR CLOTHES
BASE LAYER
A base layer is worn directly against the skin. You'll want a thin layer of moisture-wicking material like silk, merino wool, or cotton long underwear.
MIDDLE LAYER
The middle layer should be insulation for your core like fleece pullovers, down vests, or wool sweaters.
OUTTER LAYER
Your outer layer must do three things: block the wind, keep out rain and snow, and allow sweat vapor to escape.
For your upper body, this means a jacket made specifically for cold conditions that has vents that will allow water vapor to escape.
For your lower body, you'll want ski or snowboard-type pants or suit.
Due to COVID-19, we are NOT providing Snowsuits.
GLOVES
Having a warm pair of winter gloves is critical to staying comfortable in cold conditions.
Look for winter gloves that come with an removable liners for extra insulation. You will need to bring your own gloves for each rider on all of our tours.
WINTER BOOTS
Keep in mind that cold-weather footwear can range from heavy-duty snow boots to more basic insulated shoes.
Many winter boots have a "comfort rating," such as "comfort-rated to -15 degrees Fahrenheit." This will give you an idea of how much insulation a pair of boots will provide.
Just be aware that there is no industry standard for footwear comfort ratings, and these numbers are estimates created by the manufacturer.
Always wear warm, mid-weight or heavyweight winter socks with your snow boots.
Due to COVID-19, we are NOT providing boots.
HAND/FOOT WARMERS
Disposable hand and foot warmers are another handy item to have with you.
Pop a few in your jacket pocket, and you'll be glad to have them if the wind chill picks up.
HELMET (PROVIDED)
High Country Tours has helmets available to all of our patrons, free of charge.
All of our helmets are DOT rated for safety reasons. Beware that most snowmobiling helmets sold on the market are NOT rated by the DOT.
If you want to bring a helmet of your own, it must be DOT rated in order for you to use it on the tour.
**All or part of this operation is conducted under Special Use Permit issued by the Bureau of Land Management**