Breckenridge, Colorado Snowmobile Rentals
RENTING OUR SNOWMOBILES IN COLORADO
(Also Serving Boulder, Denver, Keystone, Vail, and all of Summit County)
TRAIL DESCRIPTION
If you already know how to snowmobile, an unguided snowmobile rental in Breckenridge, Colorado is a great way to explore the Rocky Mountains!  
Our rental machines are located at our Birdeye Outpost–about sixteen miles south of Copper Mountain Resort.  You are responsible for returning the sled on time and in the same condition that you received it.
You have the option to explore the trails in this area, which includes thousands of acres of open terrain and miles upon miles of trails.  
If you're looking for fresh powder, you'll find some amazing riding in some of the back-country bowls.  
The scenery around Summit County is unparalleled – three of the tallest mountains in the Rockies plus several more "14ers" (mountains over 14,000 feet), and views of Colorado's historic mining district in Leadville.
If you'd rather tow the sleds to another destination and have a proper tow vehicle and trailer, we're happy to help you do that and suggest some of the best places to explore.  
It's a very good idea to take note of where you have a cell phone signal before you head out into the backcountry.  
This way, you'll know where to return to if you need to call out for assistance.
LOCATION
Nearby Suggested Snowmobiling Destinations:
Vail Pass Recreation Area (25 minute drive)

Chicago Ridge (5 minute drive)

Cotton Wood Pass (1 hour drive)

Rabbit Ears Pass (2 hour drive)
**MUST HAVE A VALID LEARNER'S PERMIT OR DRIVER'S LICENSE TO DRIVE A SNOWMOBILE**
2 & 3 Hour Rentals
Monday – Thursday
Starting January 15th
** Depending on Snow Conditions
•  All guests must arrive wearing clothing that is appropriate for this cold weather, outdoor activity!
•  DOT-approved helmets WILL be provided (required).
•   Equipment Rentals: Adult Snowsuits $25, Adult Boots $15, Goggles $10 on a first come, first served basis. (Sorry, we do NOT have child-sized snowsuits or boots available for rent.)
Previous snowmobiling experience required

Stuck snowmobile recovery knowledge required

Knowledge of mountain survival skills is strongly recommended

Includes DOT-approved helmet and a full tank of gas
Snowmobiles Available for Rental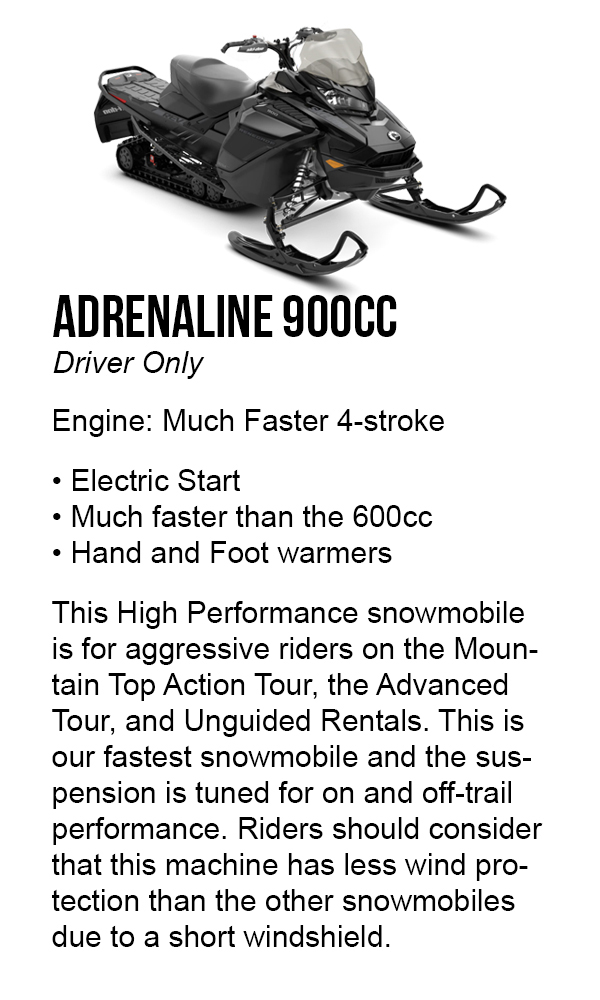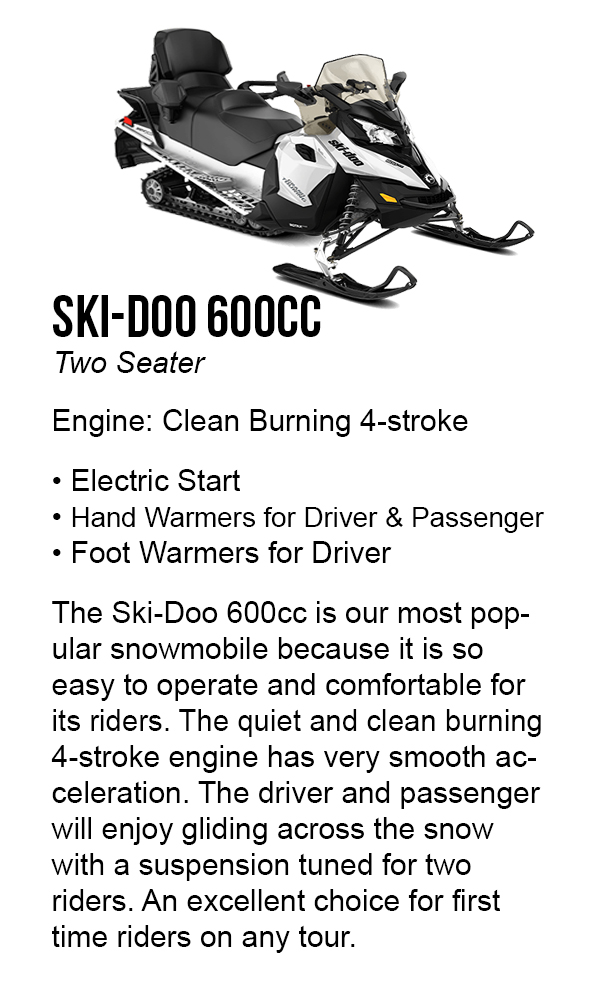 Breckenridge Snowmobile
Tours & Rentals by HCT
Book Your Rocky Mountain Adventure Today!
400 North Park Avenue #10
Breckenridge, Colorado 80424
A Division of:
If I could give 6 points I would! This was a first time on snowmobiles for my wife and me and we took the "Mountain Top Action Tour" which was higher paced. The snowmobiles were in excellent condition and the guide (Spencer) did a great job estimating our level of…read more→
Amazing adventure - we were wide open! Took a mountain top action tour today with William - it's hard to impress two 16 year old boys but this was over the top. Breathtaking scenery, "off road advanced add-on where William took us to places we couldn't possibly get on our…read more→
Great mountain top adventure We booked the Mountain Top Action tour and chose the action tour since we were all adults and wanted to go above the tree line. We chose the more expensive snowmobile (only $10 more). We requested to be picked up since we were staying in Breckenridge…read more→
Birdseye Outpost Mountain Action Tour This is our second experience with High Country Tours. We met our guide William at the Birdseye Outpost near Leadville. William is a very personable guide with a wealth of information about the area. We had a wonderful, scenic and exciting two hour tour. High…read more→
As good as it gets! Took a few snowmobiling tours while in Breckenridge for Spring Break. This was by far our favorite as far as value and experience. But then you throw in the "Extreme" tubing that was included (with Spencer) and it just went over the top! Can't wait…read more→
Snowmobile Mountain Top Tour Went on a tour with my buddies. We took the Mountain Top Tour out of the Birdseye Outpost. We were worried about the warm weather, but there was nothing to worry about. Tour was awesome! Machines were great, and William our guide was phenomenal. Great information,…read more→
Nice Adventure off the beaten path We had a great time snowmobiling. It had some awesome scenic views and our tour guide was very knowledgeable and helpful. The safety session before the ride was informative but did make us a little nervous as you would be responsible for any damages.…read more→
LOVE IT LOVE IT LOVE IT!!!!!!!!!!! BEST snowmobile tour EVER!! We have gone on a snowmobile tour before, but High Country Tours and Will, our tour guide, BY FAR THE BEST!!!! The trails we went on were exciting, adventurous and fun BUT our tour guide, Will, made it the coolest…read more→
Beautiful Back Country We went to the location which is south of Copper Mountain. We have been on other snowmobile tours in different states and this was the best ever!!!! No facilities just a port-o-potty but overall it was a great experience!! Trip Advisor Review
Top of the World Took my grandson to the top of Birdseye Gulch. It was absolutely amazing! He absolutely loved it, and so did I. William, our leader, is a real pro. He knows his stuff, and knows how to lead you on the ride of your life. Trip Advisor…read more→
**All or part of this operation is conducted under Special Use Permit issued by the Bureau of Land Management**
At Our Kremmling ATV Outpost Location
On our guided tour the riders can relax and let their guide lead the way to the best trails and the best pictures of surrounding mountain ranges and the continental divide.
Make Your Own Adventure with a Breckenridge Snowmobile Rental!